Word of Thanks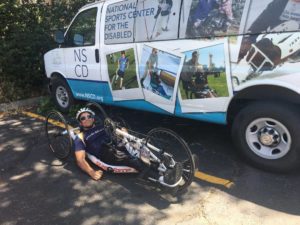 We have all experienced what it is like to be isolated due to the pandemic and know the horrible feeling when we cannot do the activities that improve our mental and physical health. People living with disabilities face these challenges every day. At the National Sports Center for the Disabled (NSCD), we need your help to be able to bring our programs to youth living with a disability and to injured military veterans in underserved communities. We had a vehicle stolen just before COVID-19 and have several other vehicles that are no longer serviceable. Recently, we had two vans and a trailer break down in one week. It would be a tremendous boost to our programming if we had a reliable towing vehicle and a couple trailers for our sports equipment. Our goal is to raise $75,000 to purchase a vehicle and trailers.
We believe that everyone is able, and everything is possible for individuals with a disability to gain independence, and improve their life skills, socialization, and overall well -being through adaptive outdoor recreation. On average the NSCD serves over 4000 individuals through winter and summer programs. Our programs often are the only way for an individual with a disability to experience Colorado's Great Outdoors. Physical activity and recreation are an essential part of life in Colorado. Never has that been more evident than during the COVID-19 pandemic this last year. Adaptive outdoor recreation helps support individual's physical and mental health by reducing isolation and providing goal focused objectives that when accomplished help to increase independence and self-esteem. The NSCD gives individuals the opportunity to fully participate in community life with families and friends while cultivating a healthy lifestyle.
| | |
| --- | --- |
| | |
Thank you for donating to the National Sports Center for the Disabled!
---
National Sports Center for the Disabled tax identification number: 84- 0738419
Any questions? Contact us at [email protected] or (303) 293-5711. Thank you!
The NSCD respects donor privacy and all donor information remains confidential.  The NSCD will not share or sell a donor's personal information with anyone else, nor send donor mailings on behalf of other organizations.  Donor information will only be shared if the donor has given specific permission to do so. Payments are securely processed by Fundraise Up.