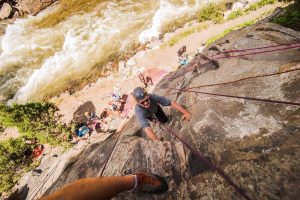 The NSCD climbing program has something for everyone at every ability level. Our staff provides a peak therapeutic experience while passing along the skills instrumental to being a successful climber. Staff performs an on-site assessment that complements the participant information provided prior to arrival and designs a custom curriculum in one of our three learning tracks. No experience is necessary. All equipment and adaptations are provided. Participants must be independent and manage self-care or bring a care-giver to provide assistance.
---
Rock Climbing with the NSCD
Whether you are new to rock climbing or have climbed previously, rock climbing presents unique athletic and mental challenges, and demands a wide range of technical and judgment skills that can only be learned on the wall. The NSCD offers indoor and outdoor climbing lessons to take your skills to the net level.
Individual Lesson
Want to try something new? Individual lessons are programs run with other participants in a group setting focused on skill building and recreation.
Dates: May – September, 2022
Times: 10:00am – 12:30pm for participants with Intellectual Disabilities
1:00pm – 3:30pm for participants with Physical Disabilities
Price: $25
BOOK NOW!
Private Lesson
Looking to spend time building new skills or mastering old ones? Private lessons are a great way to get one on one instruction!
Dates: May – September, 2022
Times: A Customer Service representative will be in touch within 48 business hours to discuss your requested activity, date and time.
Price: $120
BOOK NOW!
Custom Group
Do you have a group of five or more participants that needs a summer activity? The NSCD can help! With our programs all
over the Front Range, your group can explore the outdoors like never before.
INQUIRE NOW!
Veterans Appreciation Day
Join fellow Veterans every Friday for a day of outdoor adventure and recreation.
Dates: May – September, 2022
Times: 10 am – 12 pm
Price: Free to military veterans with a disability.  Personal Care Providers are $25 per person. Call 970-726-1518 to receive the 100% discount code before booking online.
BOOK NOW!