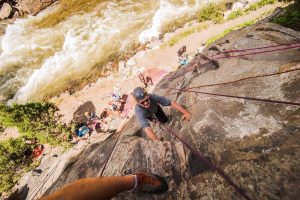 The NSCD climbing program has something for everyone at every ability level. Our staff provides a peak therapeutic experience while passing along the skills instrumental to being a successful climber. Staff performs an on-site assessment that complements the participant information provided prior to arrival and designs a custom curriculum in one of our three learning tracks. No experience is necessary. All equipment and adaptations are provided. Participants must be independent and manage self-care or bring a care-giver to provide assistance.
---
Introduction to Rock Climbing
Whether you are new to rock climbing or have climbed indoors previously, outdoor rock climbing presents unique athletic and mental challenges, and demands a wide range of technical and judgment skills that can only be learned outdoors. This course is designed as a comprehensive introduction to rock climbing, both for beginners who have never climbed before and for indoor climbers who want to transition into outdoor rock climbing or alpinism.
The course has three primary components:
Movement skills, including techniques that are hard to learn indoors, such as jamming and friction climbing
Technical systems, including knots, anchors, belaying, rappelling, and top-rope site management
Judgment skills, including route-finding, recognizing hazards, and risk management.
Dates: May 22nd, June 12th, July 17th, August 14th and September 2nd
Location:Tunnel 6, East Colfax | Clear Creek Canyon | Golden, CO
Time: 9:00 AM – 2:00 PM
Price: $149 per person | Free for veterans with a disability
Ages: 9 & up
*A minimum of 3 participants must be pre-registered for this program or it will be cancelled.
---
Individual Rock Climbing Lessons

Spend some quality time with our processional rock climbing instructors in a small group setting. You will learn all of the fundamentals of climbing from a certified AMGA-SPI Guide.
Dates: Tuesday's, May 18th, May 25th, June 1nd, June 8th, June 15th, June 22nd, June 29th, July 6th, July 13th, July 20th, July 27th, August 3rd, August 10th, August 17th, August 24th, August 31st, September 7th, September 14th, September 21st, September 28th
Location: Tunnel 6, East Colfax | Clear Creek Canyon | Golden, CO
Time: 11:30 AM – 3:30 PM
Price: $99 per person | Free for veterans with a disability
Ages: 5 & up